What is Wallgarden?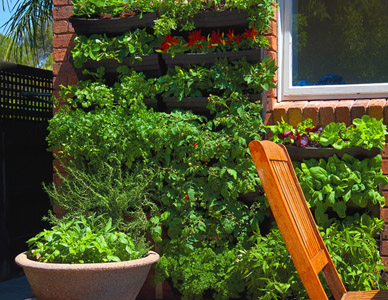 Wallgarden Turns A Wall Into A Garden
Wallgarden brings the amazing vertical garden to the home. With the simplest DIY installation, you can turn any wall, fence or vertical space into a living, growing green wall or vertical edible garden!
There's an excellent spot for Wallgarden in any home, whether you've got acres of space or just a balcony in your highrise apartment. Wallgarden allows you to grow a garden where you didn't think you could.
Green walls, edible wall gardens & vertical gardens have never been easier with Wallgarden!
See Our New Product, Multi-hang
Why Is Wallgarden Better?
Easier to Install
There's no complicated clips that cost and arm and a leg. Wallgarden installs simply with everyday supplies from your hardware, a screwdriver & a drill. And you have a green wall!
Better Plant Growth
Wallgarden doesn't use bags which can cause odour & reduce plant life. In this vertical garden system, plants grow upward, the natural way, so they grow fuller & healthier for longer.
For a Lower Price!
Best of all, costing less than half the price of similar vertical garden & green wall systems, Wallgarden is easier on the back pocket. So you get more vertical garden for less!
Natural & Better Plant Growth
More potting mix per plant in our vertical garden products. More room for root growth and greater water retention! Capacity Wallgarden 16.3 litres, Multi-Hang 4.7 litres.